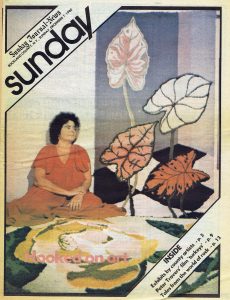 Artist Ethel Hultberg is Hooked on Art
A pair of wallhangings — more properly, hooked rugs of wool fiber — greets the eye on entering a caverous room housing the Fiberworks exhibition now under way at the Thorpe Intermedia Gallery in Sparkill.
The two wallhangings, "Staghorn Ferns" and "Monsterra and Curves," are the work of a one-time teacher, art administrator, radio commentator, and now housewife and mother of four, Ethel Hultberg, who with her husband, RCC art teacher Paul Hultberg, resides in Pomona.
What makes the rugs exceptional in an exhibition full of outstanding examples of fiber art is the fact that they represent but two of an outpouring of nearly 13 rugs executed by Mrs. Hultberg within the space of nine months—each one a work of art, in which color compliments material, and the materials are melded into designs that are both striking and beautiful.
Although utilitarian in appearance, these hooked rugs are beyond use as mere floor coverings.
What makes Mrs. Hultberg's enterprise perhaps a bit more unusual is the sudden reawakening of one housewife's long dormant creativity. Mrs. Hultberg said it had been 22 years since she last put her hands on a shuttle hook, the essential tool used in the making of hooked rugs.
The device is used to thread yarn from the back of the canvas to the front side. It creates the loop which contributes to the completed design.
Of that first encounter with hooked rugs back in 1958, she recalls: "Paul and I were then living on the Land (the cooperative in Stony Point) and I was pregnant with my son Peter. I had not been feeling well and John Cage (the composer) would come over to the house to keep me company. While he was doing some composing, I was hooking a rug. At the end of winter—after four months—he had finished his winter music and I had my hooked rug.
"I put it on the floor and in three weeks there was no color on it. It had faded out to zip, having used old reprocessed wool. I had wasted four months. So I got very discouraged and didn't do it again."
That is, until last February, when she decided to try her hand again at making hooked rugs.
Triggering her renewed interest was the fact that Mrs. Hultberg has a well-developed green thumb. She is surrounded by an array of flowers, plants and assorted exotic flora, not only on the greenhouse attached to her home, but throughout the rambling house itself.
"I decided to use the greenhouse as my studio," she says. "My work has been greatly influenced by this. In fact, the first eight rugs were all of the plants I grow myself."
How does she arrive at a specific design?
"That decision," she replies, "has been fairly organic, literally—in the beginning, flowers and plants. As I see images in the rugs I'm doing, so the next one is determined. It's an organic flowing kind of thing."
How does she transfer her a design on to her canvas?
"I work in several different ways. For some of my plant rugs I cut the actual plant out and project it onto a canvas with an overhead projector. In this method I was helped by my husband. He taught me how to use the overhead projector, so that I can do this by myself now."
"In another method," Mrs. Hultberg continues, "I project color slides of plants directly onto the canvas, very much as the magic realists work. In these designs what I additionally see is the breakup of light, which gave me my first clear picture of what abstract design might look like.
"And there's a third method I sometimes use. I will cut out designs, make drawings of shape or forms on colored craft paper, and just play with them on different colored backgrounds."
Mrs. Hultberg admits that her long-time interest in feminist matters has also been tapped as a source for her hooked rug making. "My most recent work," she says, "embodies the theme of Ishtar, goddess of all creation, along with her Holy Daughter. I'm going to do a series of female goddesses, enough eventually for an entire show on the mythic female figure."
Expressing with ardor her feminist views, she asserts: "I truly believe that our Judeo-Christian culture helped kill off an earlier culture in which a female deity reigned supreme. And in reigning supreme, we had a priesthood, or priestesshood, if you prefer. We had lawyers, doctors, real estate agents and the whole hierarchy of society. Men stayed home to take care of the children and the weaving."
Does she think women want to return to that earlier time when they dominated men she is asked?
"No," she replies, "I think the period of domination is coming to a close. I think woman dominated once. I think men have dominated for a very long time. And now I think we are approaching the period of equality."
So, is this what her weaving is all about, or at least being targeted to, she is asked?
Then, taking the edge off the gravity with which she has stated her views, she smiles ans says, "No. Of course not. It's just an idea that preoccupies me at the moment."
But the subject does occupy her and she returns to it, "Women have got to assume an equal role in society with men so that they can feel good about each other. Men have dominated for a long time and have managed to produce an ugly society."
Returning to the subject of her hooked rugs, Mrs. Hultberg is asked where she purchases her yarns and her canvasses.
"For the most part, I can buy all my needs in the county. Occasionally, I will send to New York City for certain yarns that I cannot find here."
In the preparation of attaching the canvas to backing — the gluing, stitching and binding — which can be a physical chore, Mrs. Hultberg sayd that she is sometimes helped by Jay Fay of Congers.
Would she describe her hooked rugs as rugs, wallhangings, or what?
"I thought of them originally has rugs to put on the floor. I plainly see that they are not rugs. I wouldn't call them wallhangings either, because that implies a craft. What I would like to call my hooked rugs is art, because I feel they transcend the categorization which is often applied to it."
What else would she like to do with her rediscovered talent for making hooked rugs?
"I plan to next exhibit at the Christmas show being held at the Rockland Center of the Arts, beginning on December 14.
"Then," she concludes, "I would like to translate some of those astounding images that recently came back from space showing Saturn's beautiful rings and moons."
. . .
Source: She's Hooked On Her Art by Michael Hitzig, staff writer • The Journal News, Sunday, December 7, 1980
Recent Work   Abstracts  Portraits  Flowers  Body Politic  Creatures   Earlier Work