The 'playful' world of Caroline Crawford
Show
also marks opening of a new gallery in Pomona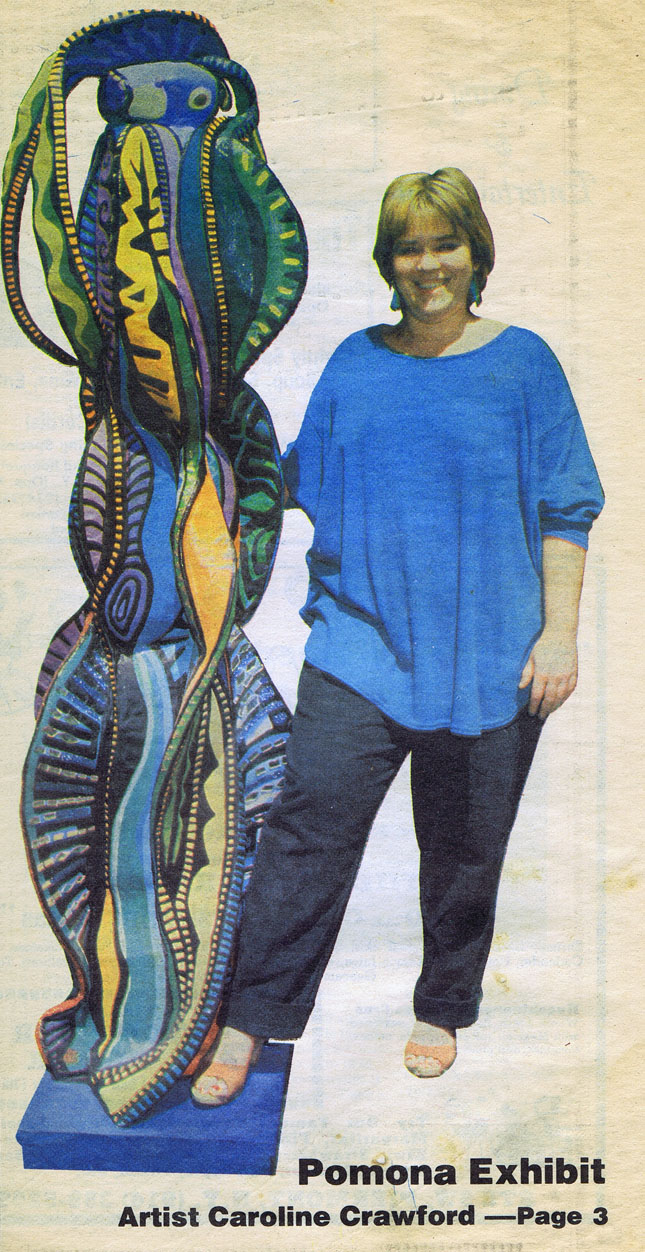 "In the best of all worlds, I think that human beings want more than anything ti indulge in joyful play," say Caroline Crawford about he new exhibition of paintings and sculptures opening at Artworks, a new gallery in Pomona.
Ms. Crawford's exhibit, her first in nearly eight years, opens on Saturday with a reception from 4 to 7 p.m., to which the public is invited.
Known heretofore for her artistry with stained glass, Ms. Crawford has, with the new show, expanded her artistic horizons to include painting, drawing and sculpture.
"About four years ago," she says, "I began to shift from realism to abstraction and began working with watercolors of shapes floating about and colliding. I also used collage, mixed media and tried to find interesting paint surfaces."
"This year, with Ethel Hultberg's urging," she continues, "I decided to take a break from stained glas work and devote myself entirely to various media. I wanted to encounter new materials and see what I could do with them." Most of all, I wanted to play.
She explains "play" as meaning the free use of materials and colors and "putting them together in some new way." "It's amazing," she explains, how much hard work 'play can be."
Mrs Hultberg is co-owner of a the new gallery with her husband, Paul Hultberg. Both are artists. The gallery is located at 240 Quaker Road, Pomona.
For her exhibition, Ms. Crawford began going beyond the flat surfaces and straight edges of canvas and began cutting shapes out of plywood and assembling them to form three-dimensional wall sculptures. "I cover the surfaces with bright paint and textures, adding things like glitter, beads, sequins — whatever comes to mind for a particular piece."
She also credits music as being as influence in her work. "I try and get a "jazzy" movement in the pieces," she says.
Papier-mache sculptures are also among her recent creations, many of them quite large. These will also be seen in the new show. (The papier-mache picture on the cover of Weekend, title "Housing Complex of African Hornbills," is more than six feet high.)
Ms. Crawford, who is a resident of Pomona attended the Art Students League, Rockland Community College and studied figure drawing with Ken Nishi. She has taught at the Woody Crest School in Pomona and the Rockland Center for the Arts. She has had many exhibitions in Rockland.
Of her new show, Ms. Crawford says, "The main focus is that I am doing something new and sharing it with folks, I truly hope it is infectious and makes people happy."
The new Artworks gallery, according to Mrs. Hultberg, will be run by artists, with exhibitions — "hopefully 12 exhibitions a year," she says — to reflect both "originality and quality."
"Galleries are usually directed by art dealers, not artists," she continues. "Rockland County has been unique in having such a gallery as Thorpe Intermedia, a highly successful exhibition space run by artists. Artworks offers another such opportunity."
Ms. Crawford's exhibition at Artworks will continue through July 27 and can be viewed weekends from 1 to 5 p.m., or at other times by appointment. For more information call 354-0487 or 354-9160.