Paul Hultberg Bio
Paul Hultberg was considered "among the most progressive artists working in enamel in the mid-twentieth century."  Later known as Paul Hammer-Hultberg, he was also a painter, a print-maker, a graphic designer and teacher [1]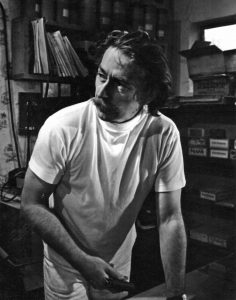 "Hultberg is well known for his large architectural panels. The work constitutes an unusual adaptation of the traditional craft in that he magnifies the scale; normally artists in enamel concentrate on jewel-like brilliance". [2]
Described as, "A veritable virtuoso in the field of enameling. Hultberg freely translates the forms and the random occurrences of nature into painterly abstract images. His technique and his style are clearly within the context of Abstract Expressionism, and both contribute essentially to a final effect of spontaneous creativity." [2]
"Hultberg's enamels are not the little jewel-like miniatures one sometimes associates with this craft. His surfaces are the more original expressions of an artist who mixes the visions of painter, print-maker and adventurous inventor." [3]
"[Hultberg] represented a new generation of enamelists who embraced abstract expressionism. His enamels were big, and he specialized in making enamel look like it was applied in bold brushstrokes. The similarity to paintings by the most graphic of the abstract expressionist artists, like Clyfford Still, was unmistakable. The flavor of urban grit and downtown cool was unmistakable, too." [4]
"In addition to numerous architectural commissions, the works of Hultberg have been exhibited internationally and were included in both the Seattle and New York World Fairs. He is represented in the permanent collection of the Museum of Modern Art, New York". [2]
FOOTNOTES:
[1] Jazzar, Bernard N. and Harold B. Nelson. Little Dreams in Glass and Metal: Enameling in America, 1920 to the Present. Los Angeles: Enamel Arts Foundation, distributed by the University of North Carolina Press, 2015. Pg. 133.
[2] Nordness, Lee. ObjectsUSA: Works by Artist-Craftsmen in Ceramic, Enamel, Glass, Metal, Plastic, Mosaic, Wood, and Fiber. Thames and Hudson, 1970. Pg. 33.
[3] Richards, M.C. The Enamel as Mural, Craft Horizons, March/April, 1960 issue
[4] Koplos, Janet & Metcalf, Bruce; Makers: A History of American Studio Craft, Chapter 7, 1950-1959, The Second Revival of Crafts. University of North Carolina Press, 2010. Pg. 245